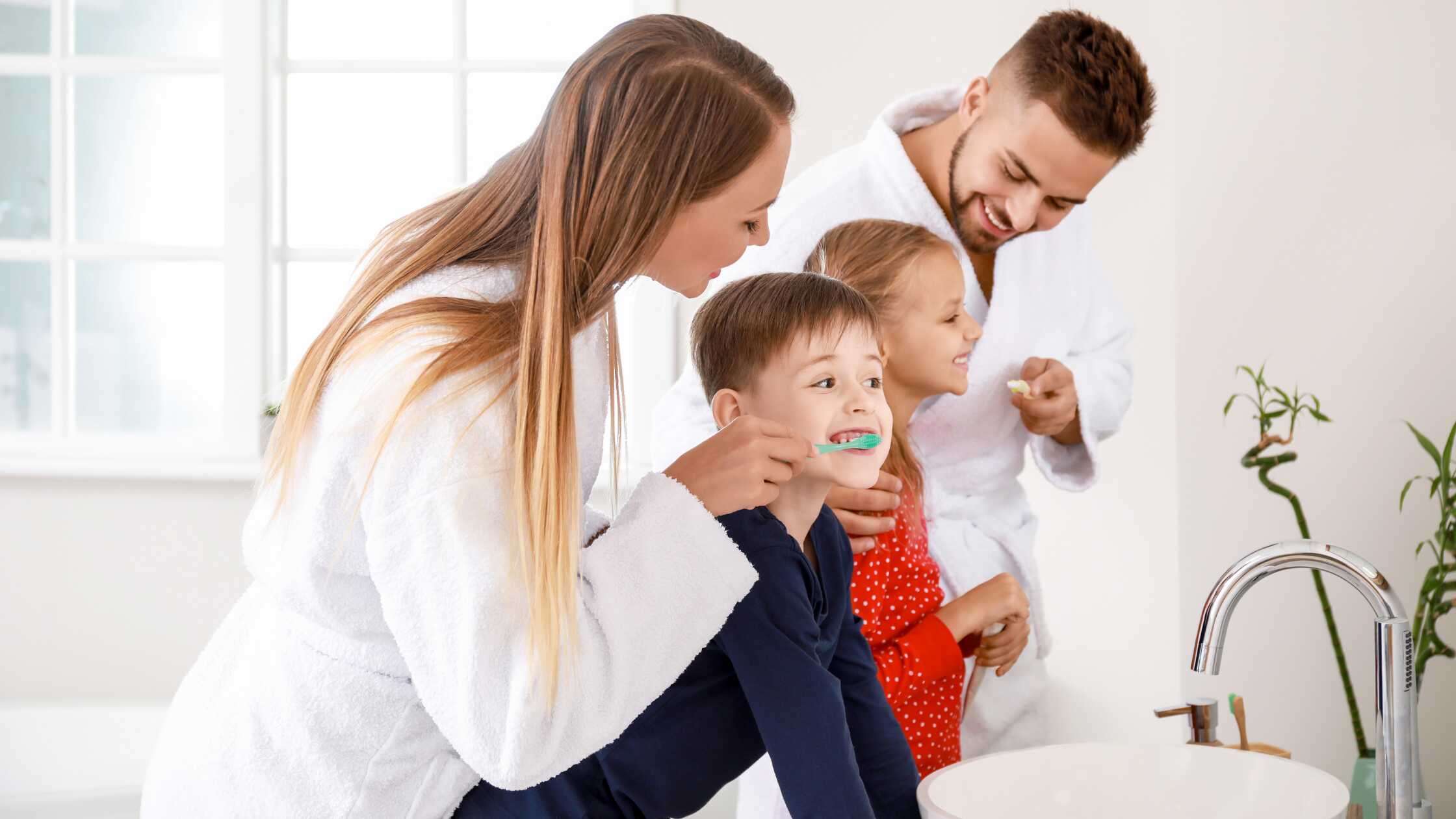 Thanks for visiting MyLifeSmiles Family Dental Clinic! We recognize that a self-assured grin develops early in childhood. Our pediatric dentistry services are intended to make your child's oral health journey enjoyable, instructive, and successful. Here's how we help your kids smile with assurance:
1. A Calm and Friendly Climate
We at MyLifeSmiles are aware that going to the dentist, especially for young children, can be frightening. Our family dental clinic is dedicated to providing a friendly and inviting setting that makes kids feel at ease. We work hard to make every visit enjoyable, from the vibrant waiting spaces to the kind employees.
2. Expert Pediatric Dentists
Our group of skilled pediatric dentists is particularly skilled in taking care of young smiles. We are experienced in dealing with children's dental issues and are aware of their particular oral health needs. We guarantee that your child's dental treatment is in the finest hands by using a soft touch and a sensitive approach.
3. Preventive Education
We have faith in the efficacy of education. In addition to providing treatment, we also place a strong emphasis on preventative care in our pediatric dentistry services. We educate kids about good brushing habits, the value of a healthy diet, and the importance of routine dental exams through interactive workshops and interesting explanations. Early instillation of these behaviors lays the groundwork for a lifetime of self-assured grins.
4. Child-Friendly Treatments
Our procedures are created with the comfort of your kid in mind. From regular cleanings to cavity fillings, we employ kid-friendly procedures and tools that cause the least amount of discomfort. In order to make sure that your child feels educated and engaged in their own dental care, we take the time to thoroughly explain processes in a way that is kid-friendly.
5. Positive Dental Experiences
At MyLifeSmiles, we think that early dental experiences positively influence views toward oral health throughout adulthood. We want dental appointments to be remembered for the right reasons—smiles, laughing, and a sense of accomplishment. We assist kids in overcoming their fear and anxiety by concentrating on creating good connections with dentistry.
6. Partnering with Parents
We are aware that parents are very important in preserving their children's oral health. Our pediatric dentistry services go beyond the clinic; in collaboration with parents, we offer advice on dental care at home management techniques, diet selections, and oral hygiene habits. Together, we strive to provide the groundwork for powerful, assured grins.
7. Customized Treatment Plans
Every child's dental requirements are different, just like every child. At MyLifeSmiles Family Dental Clinic, our pediatric dentistry treatments are personalized for each child's unique needs. Our dentists take the time to evaluate your child's dental health and provide a customized treatment plan, whether it's a normal check-up or specialized treatment. This guarantees that your kid gets the attention they require to be in good health.
8. Interactive Learning Zone
We think education can be enjoyable! Kids may explore and learn about oral health in a fun way at our clinic's interactive learning area. Children get a greater knowledge of their teeth and gums through interactive displays, educational movies, and hands-on activities. Kids of all ages find dental education pleasant because of this distinctive feature.
9. Early Orthodontic Guidance
Orthodontic problems can be prevented from becoming more problematic later on by early identification. Early orthodontic advice is one of the pediatric dentistry treatments we provide, where our specialists evaluate your child's alignment and bite. If required, we offer advice on early intervention orthodontic procedures that can correct issues and encourage strong jaw growth and self-assured smiles.
10. Creating Lifelong Dental Champions
We develop long-lasting dental champions at MyLifeSmiles Family Dental Clinic rather than merely treating tooth problems. Our pediatric dentistry services are centered on equipping kids with the information and instruments they need to manage their oral health. We prepare children to become proactive advocates for their smiles throughout their lives by teaching healthy oral hygiene practices and a positive attitude toward dentistry.
11. Community Engagement and Events
We are more than just a dental office; we are engaged members of the neighborhood. We frequently hold family-friendly oral health events, workshops, and lectures. These activities provide young people with a fun and engaging approach to learning about dental health. By interacting with the neighborhood, we foster a good culture.
12. Scheduling Convenience
We are aware that scheduling dentist appointments can be challenging when you have a tough schedule. We provide various scheduling choices in order to meet the demands of your family. Our flexible appointment times, which include after-school and weekend hours, make it simpler for you to see to your child's dental health without upsetting their schedule.
Join the MyLifeSmiles Family Today
MyLifeSmiles Family Dental Clinic is your partner in helping your kids develop self-assured smiles when it comes to pediatric dentistry. We stand out as a dependable option for families looking for top-notch dental treatment because of our holistic approach, kid-friendly setting, and dedication to education. Join our family now and offer your child the gift of a lifelong, healthy, and self-assured smile.
Schedule an appointment and take the first step towards your child's brighter, happier smile!